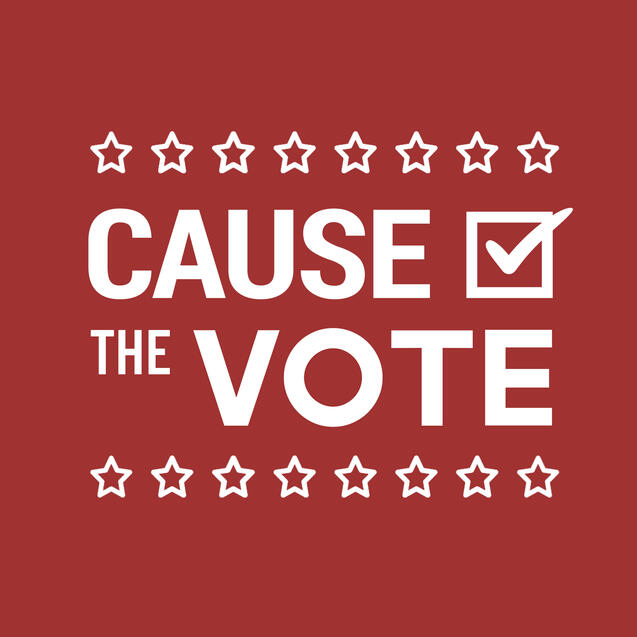 CAUSE THE VOTE
AAPI VOTER RESOURCES
A compiled list of voter resources for the
Asian American and Pacific Islander (AAPI) community nationwide and in California by the Center for Asian Americans United for Self Empowerment (CAUSE)
Navigation Menu
---
---
---
2023 CA ELECTIONS
general information
---
KEY DATES
| | |
| --- | --- |
| Monday, October 23, 2023 | Last day to register to vote to receive an Official Sample Ballot and a Vote-By-Mail Ballot in the mail |
| Saturday, October 28, 2023 | First day to vote in-person |
| Tuesday, November 7, 2023 | ELECTION DAY - Last day to vote in-person, drop off/mail VBM Ballot, and/or Same Day (Conditional) Voter Registration |
---
VOTING OPTIONS
In-Person
Voters can visit any Vote Center

Voters can receive translated ballots, language and accessibility assistance, and replacement ballots
Vote-by-Mail
All voters receive a vote-by-mail ballot

No additional postage is needed

Must be postmarked by Election Day

Return options: Return by mail or Drop-off locations
---
GET INVOLVED AT 16
Pre-Register at 16. Vote at 18.
16 and 17 year-olds can pre-register to vote, which will automatically become active once they turn 18.
Be a Student Poll Worker
The Student Election Worker Program provides high school students with an exciting opportunity to serve as Election Workers in Los Angeles County elections. Student Poll Workers will be trained and receive a stipend for their service along with a great hands-on introduction to the democratic process.
CA Elections:
voter guides
AAPI-CENTERED SOURCES
---
GENERAL SOURCES
GET INVOLVED IN CALIFORNIA
GET UP TO DATE
FOLLOW AAPI ORGANIZATIONS DOING THE WORK
---
LEARN ABOUT LA LOCAL GOVERNMENT
Did You Know: Neighborhood Council Learn More

Interview with Kristin Fukushima, ADLT Neighborhood Council Read Here
---
get
involved
GET UP TO DATE
FOLLOW AAPI ORGANIZATIONS DOING THE WORK
---
(ARCHIVE)
2020 Nov 3rd Election Resources
Navigation Menu
GENERAL VOTER
INFORMATION
EARLY VOTING information
Early Voting Centers will be opened starting from
Saturday Oct 24th through Nov 2nd
from 10 AM - 7 PM P.T.Election Day Vote Centers will be opened on
Nov 3rd from 7 AM - 8 PM
---
Check your voter registration status with these Organizations:
Last day to register online/by mail
to vote was Oct 15th
---
VOTER REGISTRATION STATUS
Check or Update your voter registration information for the next election cycle
Register to Vote

Pre-Register to Vote (For California residents age 16 and 17 who want to be future voters)

Check Your Registration Status
---
Learn what's on your Ballot
Official CA Voter Information Guide
---
Easy Voting Guides
by League of Women Voters
---
Propositions 101
by CSUF Alumni
VOTER GUIDES
APA Organizations Created and/or Backed Voter Guides
A3PCON Voter Guides
---
CA Native Hawaiian Pacific Islander
Voter Guide (In Language)
---
Pilipino Workers Center
Voter Guide
---
The Progressive Vietnamese American Organization (PIVOT) Voter Guide:
---
Asian American Pacific Islanders
for Civic Empowerment
Education Fund (AAPI FORCE-EF)
---
Hmong Innovating Politics Voter Guide
---
The National Queer Asian
Pacific Islander Alliance (NQAPIA)
National Senate & House Races Voter Guide
POST
ELECTION day
EVENTS
Vigilant Love
---
Cal State Fullerton
---
California Faculty Association
---
Anacostia Community Museum
NEIGHBORHOOD COUNCIL
ELECTIONS
find your neighborhood
Which neighborhoods are you a stake holder in?
Stakeholders include:
Resident

Business Owner

A Worker in the Neighborhood

Owner of real property

Someone with Community Interest / Active Volunteer
---
FIND YOUR NEIGHBORHOOD COUNCIL ELECTION TIMELINE
---
REGISTER TO VOTE
Ballots are available by request ONLY
Step-by-step guide on using the online form
Translated paper application forms available in the following languages:
English

Armenian

Chinese

Korean

Farsi

Spanish

Thai
---
GET EDUCATED